Flip Domains in 60 Minutes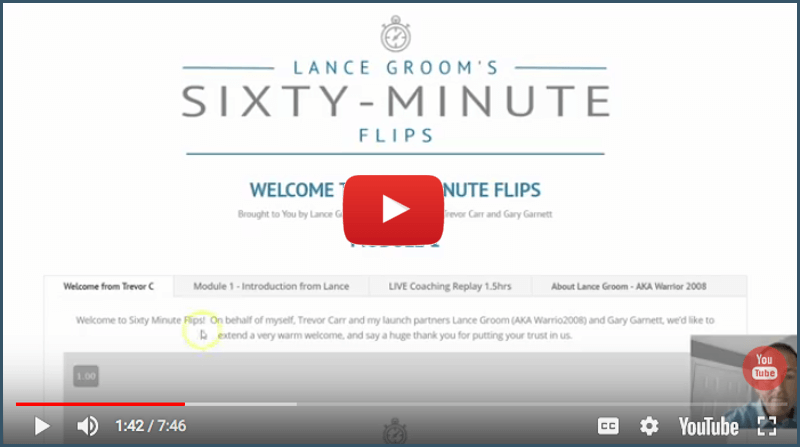 Flip domains in less than 60 minutes sounds impossible. However, Lance Groom has done a wonderful job of taking what he has learned at Domainer Elite Pro and applied something unique to his selling arsenal.
Lance stumbled upon this very unique system that enabled him to buy domain names from as little as one dollar and sell them for up to $700 in as little as 60 minutes! And he's been able to do this time and time again.
Could you benefit from flipping domains in 60 minutes?
Now, for the first time ever, Lance is revealing his SECRET SYSTEM in this brand new and exclusive training course, Sixty Minute Flips!
60 Minute Flips is easy to follow, even easier to get results with, and is a lot of fun.
As domainers we know that the hardest part about being a domainer is selling the domain itself. It can take weeks and even months to find buyers that might be interested. What if all that delay can easily be solved. What if you can flip domains in 60 minutes?
You already have the tool-set to mine unique goldmine domains in Domainer Elite Pro software. Combine our marketplace and Lance's formula for selling domains, and you've got a winning formula that continues to earn you money each every day. Every day you continue to flip a domain for a hug profit.
Imagine if You Could Discover a Genuine "Emergency Cash" System that actually works!
How About if it Only Took 60 Minutes or Less to Do It!
Well today is YOUR lucky day my friend! Because "opportunity has knocked on your door" and sent you to this page!
Thank whoever sent you, because this system WORKS – flat out. And if you leave this page without picking up a copy of 60 Minute Flips today, you only have yourself to blame!
Because Lance has taken his super effective strategy for buying CHEAP DOMAIN NAMES and then selling them for TWENTY TIMES their price, THIRTY TIMES their price and even more, and recorded an entire home study course for you.
Lance calls this "in the moment marketing" and his secret (yet super simple) system has enabled him to CONSISTENTLY flip domains in as little as 60 MINUTES and sometimes even as quickly as FOUR MINUTES!
His techniques are NOT widely known and are unique in many ways that will help give you that "UNFAIR" advantage.
Using his non traditional methods will put you in the best position to Increase your profit potential to make a lot of instant cash. Buying and selling domain names this way has never before been so exciting and profitable!
You will get to peak over his shoulder and watch a Live 1.5 hour one on one coaching call replay video. You will also get loads of individual training videos that take you by the hand and guide you every step of the way of buying, setting up your sales page and listing it along with his selling techniques.